St. Enda built a church at Cill Einne, or Cloughanover c.484, and St. Brendan built a monastery c.552 in Inchaquin.  It survived into Danish times under the saintly Meldan, Maenann and other abbots.  An ancient church at Kilcronan is believed to be that of St. Cronan and there is a 10th century church at Cargin a 'parish in the Barony of Clare', as described by Samuel Lewis in 1837.
St Fursa, a celebrated visionary, was born on Inchaquin and had his church at Killursa, where he was joined by his brothers, St. Foilan and St. Ultan.  As a missionary in East Anglia c.633, he suffered visions of hell, which, as recorded by the Venerable Bede, may have inspired Dante in the Divina Comedia. Fursa reached Peronne in France and became Bishop of Lagny.  He died c.652 and was buried at Peronne where his relics are venerated to this day.
The Francisan monastery at Ross Errilly, founded c.1351, became a focal point for two hundred uninterrupted years.  It was suppressed in 1538 but a Richard de Burgo returned it to the Friars.  In 1612 the Friars were expelled again.  They returned in 1626 but in 1656 the Cromwellians ravaged the friary.  The friars were sheltered by local people and in 1664 they restored the friary.  However in 1704 all regular popish clergy' were banished and the friars fled again, some to foreign parts, others assuming the guise of servants in local houses.  They returned in 1715 but were finally ejected in 1753.  However, they occupied some huts in Friars' Island in the Black River and returned to the Abbey on Sundays to celebrate Mass until 1804.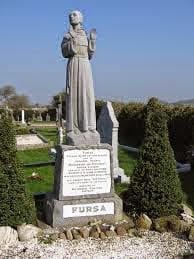 During Penal times people built a camouflaged church Seipeal na Bhfoidin, the church of the sods in Carrownacrogh.  It remained in use until St. Mary's Church was built in Claran.  Both St. Mary's Church in Claran and St Mary's Church in Headford were built by Fr. Peter Conway – Claran in 1859 and Headford in 1865.
In 1906 the presentation sisters came to Headford and in 1942 began a secondary school, which has brought immense benefits to the area since then.